The CAPP Aero Multichannel pipette sets the bar high for other manufacturers. Not only does it make mounting and ejecting pipette tips easy, but it also ensures you get accurate aspirations every time.
The robust design of the CAPP Aero stands out compared to the influx of cheap plastic designs on the market. The reason is because CAPP's interior components are made of stainless steel and the nose cones are made of anodized aluminum. And still, the pipette remains ergonomic and well-balanced in your hand while pipetting. Having such durable components helps keep the pipette within calibration for longer periods of time. Your pipette will no longer feel like a child's toy!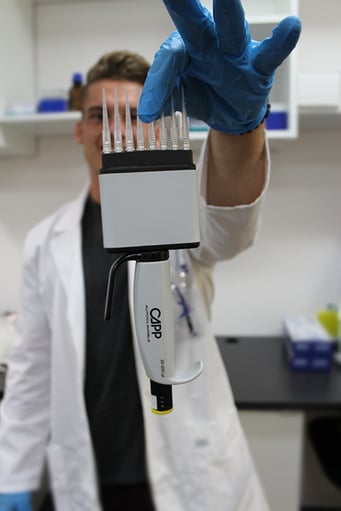 How does CAPP ensure such an easy tip mount and accurate aspiration? It does so by utilizing the dual o-rings located on each tip cone to ensure proper tip fit. The first o-ring creates a smooth seal, while the second o-ring creates a positive stop. Instead of relying on a plastic-to-plastic seal that you can't really see, you're able to feel the multichannel secure the tips. Haven't we all experienced rocking the pipette back-and-forth and double-checking each individual tip before starting to work? Not anymore!
The CAPP Aero has two unique features not seen anywhere else. The first is the tip ejection lever located on the side of the pipette. Instead having the ejection button near the plunger, CAPP engineered a side lever to allow users to eject tips with a gripping motion. The second feature is the removable plunger buttons. Having interchangeable plunger knobs allows you to quickly changes volumes AND switch between a variable volume pipette and a fixed volume pipette in seconds!
CAPP also has a specialty line of multichannels meant for 384-well plates. Along with their slender 16-channel pipette, they are the only manufacturer with a 48-channel and 64-channel pipette. These multichannels are perfect for users that fill multiple 384-well plates daily. See them in action here: CAPP Aero384
Most manufacturers only produce three volume ranges for manual multichannel pipettes, but CAPP has six to choose from! They have the widest selection of volumes ranging from 0.5-10 uL, 2-20 uL, 5-50 uL, 10-100 uL, 20-200 uL, and 30-300 uL. With a fully autoclavable body, and a 3-year warranty, you truly can't go wrong with CAPP. See which size/s suit your lab best: Full Selection of CAPP Aero Multis