The Affordable and Reliable Balance with a Readability and Accuracy of 0.0001 g
This Accuris Analytical Balances range incorporates electromagnetic sensor technology and precision mechanical components to offer superior weight determination, accurate to a fraction of a milligram. What's more, this level of accuracy and reliability is available at a fantastic price point. Two capacity ranges are available in the Analytical Balance line to weigh samples up to 120 g or 210 g, allowing you to pick the weight range that best suits your needs. The readability and accuracy for both ranges is 0.0001 g (0.1 mg), with accuracy and linearity specifications that match up with the top brands in the industry. The W3100 balances stabilize quickly to provide immediate results and save you time, increasing throughput.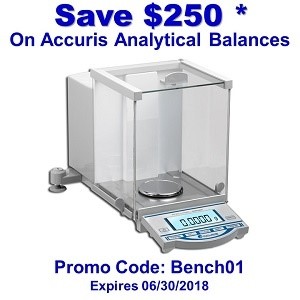 Both models offer an optional "Quick-CalTM" internal calibration feature that allows quick and convenient calibration without the need for a calibration standard weight. This provides you with added confidence in the accuracy of your results without constant recalibration with standard weights. The glass draft shield enclosing the weighing chamber has sliding doors on the sides and top for easy access to the weighing pan. Leveling feet on the rear of the balance extend laterally to provide stability, while a sensitive leveling bubble aids in the leveling process for quick and easy leveling in the lab.
The Accuris analytical balances have feature-rich software with different modes available for basic weighing in grams, ounces, carats, piece count weighing, determining percent deviation and check weighing for component inspection. The large, backlit LCD control panel is easy to see and use.
Key Accuris Analytical Balances features and benefits:
Readability to 0.0001 g (0.1 mg)
Available with Quick-Cal™ internal calibration feature
RS232 port for data output to a computer or printer
Multiple mode options (standard weighing, count mode, & percent)
Some complimentary products that you may also be interested in:
Don't Miss Out on Our Current Promotion:
Save $250 on any Accuris Analytical Balance from Benchmark Scientific
Promo Code: Bench01
Expires June 30, 2018
Applies to catalog numbers W3100-120, W3100-210, W3100A-120, W3100A-210