CELLTREAT offers unique, innovative products designed to save you time and space in the lab. Check out the products below to see what solutions would work best for your lab!
CELLTREAT's Bio-Reaction tubes offer a convenient solution for small-scale cell culture processes. These tubes reduce the storage space needed to work with your cell cultures and allow more experiments to be performed simultaneously. Topped with a 0.22 µm hydrophobic vented membrane, CELLTREAT's Bio-Reaction tubes maintain sterile conditions while allowing free gas exchange. Gas exchange can also be regulated with vent control labels.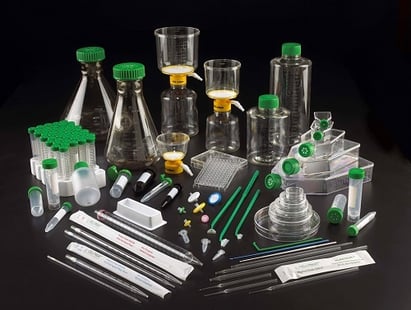 With CELLTREAT's cell culture slides, you no longer risk damaging cells during transfer to the slide. Grow you cells directly on the slide, with a uniform hydrophilic surface for cell attachment and gasket to prevent cross-contamination between chambers. Count your cells under the microscope with less prep-work.
CELLTREAT's innovative centrifuge tube filter systems are designed to fit directly onto your 50 mL tubes, reducing sample transfers. The filter's polyethersulfone (PES) membrane is low-binding and maintains a high flow-rate. You may also find the centrifuge tube stand useful while filtering directly into your tubes. The stand will hold one 50 mL tube, three 15 mL tubes, and three microcentrifuge tubes.
CELLTREAT offers a variety of cell scrapers and lifters to suit your lab's applications. Use the scraper blade to harvest all your cells by getting into every corner and edge of the flask. The traditional cell lifter allows you to gently "rake" cells out of the flask. Or, handle the entire flask with the pivoting blade cell scraper, allowing unparalleled maneuverability of the blade.
5. Everyday Consumables
Find unbeatable prices and quality with CELLTREAT's complete line of basic consumables. Serological pipettes come in a variety of packaging options to suit your clean room or laboratory. CELLTREAT's culture dishes include the option of a unique grip ring to improve your ability to handle plates in the lab. Never drop a sample again! Finally, organize and store all your samples with CELLTREAT cryogenic vials. The vials come in a variety of sizes, with different cap inserts to keep them organized.