Are you a fan of Gilson Pipetman, but can't afford to spend $388 for a new pipette?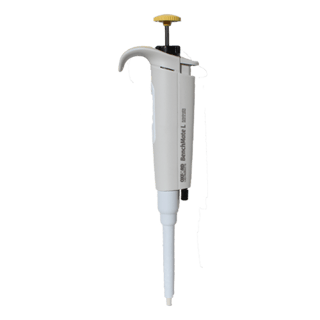 The Oxford Benchmate line offers the same precision and durability as a Gilson for nearly half the price. They are made in Japan of carefully selected materials to ensure precision and accuracy that only the finest pipettes can match. Careful choice of materials and design also greatly improves the durability of the Oxford line. For around half the price of new Gilson, you can own a durable, yet ergonomic precision instrument that will last for years, we guarantee it*. (*Oxford Benchmate 2-year warranty, Oxford Benchmate L 5-year warranty)
Owing to their insightful materials and design, Oxford pipettes are among the most accurate and precise on the market. They make use of ceramic cylinders, PTFE insulators and proprietary piston design to ensure every dispensing meets or exceeds ISO requirements for precision and accuracy. Air displacement pipettes are especially sensitive to change in temperature, as the piston chamber that measures the displaced air expands and contracts with temperature. The ceramic piston cylinders in Oxford pipettes have been designed to mitigate this problem. The ceramic material used has a very low coefficient of thermal expansion, so the pistons don't change volume much with temperature. This design is complimented by using PTFE thermal insulators. Each piston is surrounded by a PTFE spacer that reduces the heat transferred from your hand to the piston of the pipette. During long pipetting sets heat transfer, can have a major influence on piston shape and accuracy. Using a PTFE insulator greatly improve the accuracy and precision of Oxford pipettes during prolonged use. Most manufacturers don't even consider thermal expansion in their designs, which hurts their real-world performance. Most manufacturers also don't put much thought into their piston design on smaller volume models either. The 2uL and 10uL Oxford Benchmates use a proprietary blow out system that expels extra air at higher pressure when the plunger is completely depressed. This blow out feature eliminates hold up on the interior surface of the pipette tip, no matter how little sample is being used. The Oxford Benchmate has attention to the small details that matter for precision and accuracy.
The same well-chosen materials that make the Oxford Benchmate precise also make the pipette incredibly durable. The ceramic cylinders are very hard and chemically inert which gives them superior abrasion resistance and near absolute resistance to corrosion. Piston cylinders are typically made of metal or plastic. While these materials are hard, they can still be worn away over the years. Ceramic cylinders don't have these problems, as they incredibly hard, harder even then steel. They are also almost completely chemically inert, so the piston won't react if it comes in contact with salts, oxidizers, solvents etc. This is a major problem, especially for Gilson pipettes. The Gilson manual even suggests rinsing the piston with DI water after to use to reduce corrosion and increase its service life. With the Oxford Benchmate you don't have to worry aerosols reacting with the inside of your pipette. You also don't have to worry about the plastics used in the pipette reacting either. The plastics are made of PTFE or PVDF, which makes them almost completely chemically inert. The entire pipette is also UV and heat stable, so you can decontaminate the Oxford in a hood, or if you choose the entire pipette can be autoclaved. All other parts that aren't plastic are made of high grade stainless steel. The Oxford Benchmates also make use of silicone seals that are both heat stable and chemically inert. On the L model the silicone seals have been tested and are rated to 600,000 strokes. If anything, ever does wear out, replacement parts are plentiful and inexpensive. So, whether it's long term use or corrosion, the Oxford Benchmate will endure the challenges of any lab.
All these features may make it seem like the Oxford Benchmate would be an expensive pipette, but they are very affordable. Both Oxford lines are far more affordable than comparable pipettes on the market. Even a used Gilson is the same price !
The Oxford Benchmate LP is on sale for Buy One Get One Free. If you take advantage of this sale price they only cost $150 each and come with a 2-year warranty. The more luxurious and ergonomic Benchmate L is also on sale Buy One Get One Free. At this price, they only cost $184 each and come with a 5-year warranty.
| | | | |
| --- | --- | --- | --- |
| Pipette | Details | Price | Price Comparison Vs. Oxford LP |
| | Classic Gilson, base model | $388 | 259% |
| | High end ergonomic pipette | $303.50 | 202% |
| | Mid-range, owned by Corning | $180.97 | 121% |
| | Mid-range | $290.20 | 193% |
| | High-end Fisher | $421.10 | 281% |
| | High-end ergonomic pipette | $235.97 | 157% |
| | Certified refurbished classic Gilson | $129.00-$149.00 | 86-100% |
The Oxford Benchmate line combines quality materials and attention to detail to create a pipette that is may even be better than the legendary Gilson brand. Oxford Benchmate, quality for a price you won't believe.
Don't take my word for it, try it for yourself!
We have free demo units available, ask us for one today!