Almost every laboratory, whether it is a university, food, biotech or pharmaceutical laboratory has an orbital shaker. If you are searching for the right piece of equipment to serve your laboratory for years to come, there are eight important questions you first need to answer: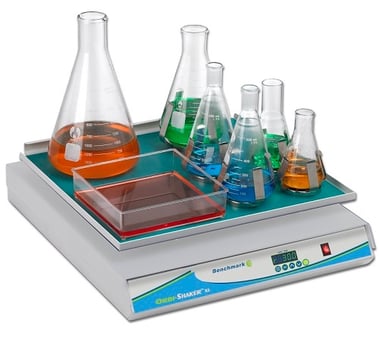 1. What type of vessel(s) will you be shaking?
Do you plan to shake bottles, flasks, tubes, gel boxes, or plates? A variety of clamps and attachments are available to meet every laboratory need.
Do you want a unit that can shake multiple types of vessels at the same time?
2. How many containers do you need to shake?
Take into consideration how many people will be utilizing the shaker and the estimated maximum number of vessels that will need to be shaken at one time.
3. What speed range do you need to use?
What is the minimum and maximum speed you need?
4. Have you determined the location and space available for the orbital shaker?
Consider the length, width, and height of the space.
Do you want a benchtop or floor shaker?
5. In what sort of environment will you be using the orbital shaker?
Do you plan to use the unit in a cold room, refrigerator, or incubator?
Will it be placed in a humid environment?
Does the shaker need to be compatible with CO2?
Do you need an incubated shaker?
6. Do you prefer digital or analog models?
Digital orbital shakers offer increased temperature and speed accuracy, as well as easy cleaning with a flat control panel compared to analog models.
Analog orbital shakers are often less expensive when compared to digital models.
7. What orbital diameter do you need?
A larger orbital diameter results in more vigorous mixing and aeration.
8. Have you considered the platform material?
Traditional orbital shakers have a stainless-steel platform and attachments; more recent models also offer plastic and magnetic options.
Popular types of shakers: