These days, there are a variety of different vortexing technologies available to scientists to meet varied and expanding mixing needs. Here, we will discuss some of these technologies that are available to scientists and give some of our favorite examples of vortexers in each category. Check out the full range of vortex mixers available at Pipette.com here.
Mini Vortex Mixers
Mini vortexers are ideal for quick spin applications and are a standard in any molecular biology lab. Small in size doesn't necessarily mean small in vortex mixing power though. The Oxford Lab Products BenchMate VM-M Mini Vortex Mixer has a tiny benchtop footprint of only 100 x 100 mm, but pumps out a hugely impressive max speed of 4,500 rpm – higher than many full-size vortexers available today.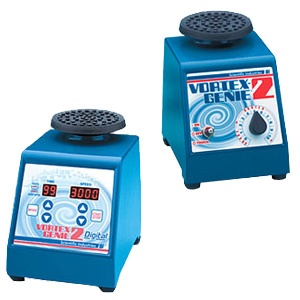 The Laboratory Standard
The Scientific Industries Vortex Genie 2 is the gold standard in laboratory vortex mixing. It is available in 3 different formats, but the classic analog model is still the most popular and widely used. There is also an array of Vortex Genie Family Attachments available for the Vortex Genie 2 to meet various vortex mixing applications. Check out the best price of the year on the Vortex Genie 2 now at Pipette.com.
Multitube Vortex Mixers
Multitube Mixers are designed to meet high throughput vortex mixing applications, such as QuEChERS pesticide analysis and other high throughput analytical methods. The Benchmark BenchMixer XL Multi-Tube Vortexer, for example, is a heavy duty vortexers designed to facilitate hands-free mixing of multiple tubes, flasks, vials or cylinders.
Digital Vortex Mixers
Digital vortex mixers offer the most accurate setting of exact times and speeds while also giving a cleaner front face without any gaps between knobs and dials for labs that require the most stringent sterility. The Digital Vortex Genie 2 is a good option within this genre, while Oxford Lab Products BenchMate VM-D Digital Vortex Mixer is a digital vortexer which includes a pulse function for more aggressive vortex mixing needs.