There are many great controllers on the market. I'm sure your head will be spinning when exploring all the different options and understanding which one is the most applicable for you. Don't worry, here are some very basic tips that will make your experience much easier and more convenient. The following information was gathered from an interview of Anatoliy. He is a technical specialist at ISO 17025 laboratory accredited by A2LA. Anatoliy has been specializing in motorized pipette controllers since 2008 and has 9 years' worth of experience fixing and repairing controllers of every brand on the market today. Here are 5 questions to ask when looking for the best motorized pipette controller.
1. Which liquid are you going to work with?
If you are working with harsh or aggressive materials be on the lookout for the most basic and non-electronic unit. When you are dealing with acids your best option will be to go with the unit that is cheap and basic. The more electronic components in the instrument, the higher the probability of the controller becoming irreparably damaged.
2. What is your budget?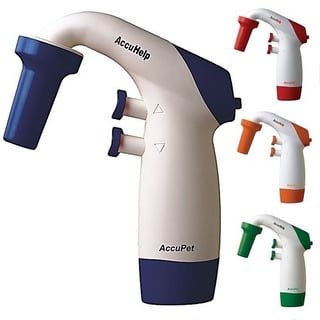 We all know that you get what you pay for. While there are many great economical units such as the Accupet AccuHelp, that has a long-lasting life and works just as well as name brands, there are also higher quality instruments. If you look at the Eppendorf Easypet controller and compare it to the basic VWR Jencons gun, you will not see or feel much difference. The trick is what is inside of the instrument. While they are alike visually, Eppendorf uses much higher quality raw materials to build the pipette. High quality German engineering makes it easy to repair and provides a guarantee that it will work correctly, which is not always the case with every manufacturer.
3. How long do you want your instrument to last?
Drummond pipette controllers are proven over time. They are sturdy, easy to repair, have affordable parts, and most importantly they are built to last. You can change the nose cones and choose from many available colors. These units have a great price point and if you are working with non-aggressive chemicals, it will be the perfect unit.
4. How fast do you need your liquid to aspirate and dispense?
When choosing a good unit, pay attention to the samples you are working with, as well as how quickly you will need to handle these liquids. Ask yourself "Do I need the process to be slow or fast?" If you are looking for a fast unit, check out Capp Tempo motorized pipette controller. It has an electronic display and multiple speed options. For those of you moving fast and running around the clock, this is a good way to save time.
5. How often do I need to calibrate and repair my pipette gun?
You should calibrate and repair your unit at least once a year. No matter the make and model, you are most likely going to over aspirate at least once. When liquid gets inside, it is not only dangerous for the motor, but can lead to nasty particles finding a new home inside your unit and potentially contaminating your work while dispensing. Do not forget to change pipette filters and calibrate your unit. It's only $40 and well worth the cost when you consider how much time and money you put into your experiments.
Hopefully this is helpful. Let us know if you have any questions.