We have prepared this handy guide to take you through the most common types of benchtop centrifuges. In this section, we will cover the 3 most common types of centrifuges. Of course, we can't cover everything in this overview, if you have any questions please call us at 800-243-3232 or email us at info@pipette.com we'd love to hear from you!
Types of Centrifuges
Microcentrifuges
These are the smallest, most affordable type and of centrifuge best used for small samples up to 2mL. They have a small footprint usually less than 10"x 10", or small enough to fit on a piece of printer paper. They cost between $129 up to $5000 or more depending on the brand and features.
Additionally, there are 2 categories of microcentrifuges, quick-spin type and full service benchtop models.
Quick-Spin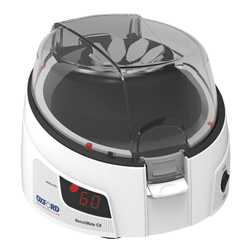 Quick-spin microcentrifuges have the lowest power and sample capacity but are the most affordable. They usually hold between 4-8 microcentrifuge tubes and usually also come with an adapter or rotor for .2mL PCR tube strips. Just as their name implies, this type of microcentrifuge is best for quickly spinning down a sample. Just a quick 3 second spin ensures your sample doesn't stick to cap or walls of the centrifuge tubes. Below are a few examples of our most popular models in this category:
Digital display, whisper quiet closed rotor, durable brushless DC motor and many built in safety features. Also comes with adapters for PCR and PCR strip tubes.
Adjustable speed microcentrifuge, digital display, closed rotor, memory settings and many built in safety features. Also, comes with adapter for PCR and PCR strip tubes.
Full Service Benchtop Microcentrifuges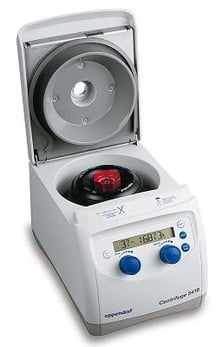 These are larger, more capable machines that also carry a higher price tag. They are versatile, they can spin microcentrifuge tubes, PCR tubes and even 96 well microplates. Some models even have climate control built in. Here are a few of the most common models.Eppendorf Centrifuge 5424 and Centrifuge 5424 R - $2244 & Up
Eppendorf centrifuges are iconic pieces of lab equipment. Fast, quiet and durable these centrifuges are found on benches around the world. The 5424 takes up to 24 microcentrifuge tubes and has a max speed of X21,000g. Available as both an ambient and temperature controlled model.
This centrifuge can hold 2, 96 well microplates and spin them up to X 400g. Ideal for times when you need to make sure there is no hold up on the walls of your microplates. The powerful motor can spin down an entire plate in under 20 seconds. Also, has an optional rotor for PCR tubes.
Clinical and Cell Culture Centrifuges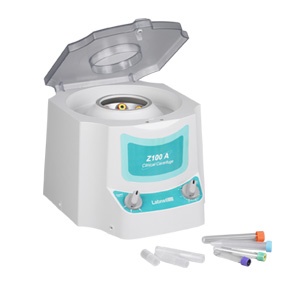 These are larger (around 24"X 36") and more versatile, but spin slower around 6,000RPM to protect their usually living samples. Their larger size and rotor options allow them to accept many tube types from common blood draw tubes up to common 15mL and 50mL centrifuge tubes. They are ideal for clinical and cell culture work. Here are a few popular options:
Has a fixed angle rotor that can accommodate many different tubes, accepts 5ml, 7ml, 9/10 ml & 1.5/2 ml tubes with supplied adapters. Also has a brushless DC motor, backlit LCD display and built in redundant safety features.
A no frills model ideal for clinical work on a budget. Has a variable speed motor, a timer and a max speed of 4,000 RPM for gentle sample handling. Has a 6 x 15 mL fixed angle rotor that accepts 15mL and 10mL tubes directly.
The 5702 is a durable general purpose centrifuge that can deliver precise results without damaging your samples. It has several rotor options that allow it to work with just about any tube including microcentrifuge, blood draw tubes and even full size centrifuge tubes. Available as a temperature controlled unit that goes from –9 °C to 42°C for improved cell viability and reproducibility.
Full Service Benchtop Centrifuges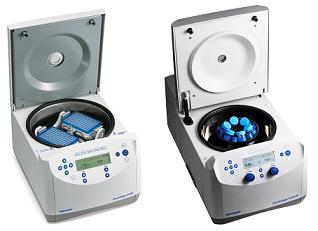 These are larger, even more versatile models that can handle almost anything with the right rotor. They usually max out at around X20-30,000g. Most come with a climate controlled option that costs more. These are a major investment, so please call us (800-243-3232) if you need help choosing one. There are many options available, but here are a few popular models:
A versatile, durable centrifuge with 12 different rotors to choose from. Different rotors can fit micro plates, 15 mL and 50 mL conical tubes, and 1.5 and 2 mL micro test tubes, among many other options. The 5430 R has a temperature range of -11°C to +40 °C.
Incredibly versatile, the 5810 line has rotor and adapter options which allow you to spin tubes, bottles, plates, and flasks from .2mL to 750mL. Comes with aerosol tight rotors essential for work with pathogenic samples. The climate controlled model has a temperature range from -9 °C to 40 °C, maintains constant 4 °C even at maximum speed.