CAPP offer a wide selection of CAPP lab equipment including centrifuges, vortex mixers, plate shakers, pumps, and more. This range of unique benchtop equipment is colored in a vibrant red, that adds a splash of color to a normally bland laboratory space. The Danish designs, paired with the vibrant color, provide an appealing aesthetic while remaining user friendly and compact.
CAPP Microcentrifuge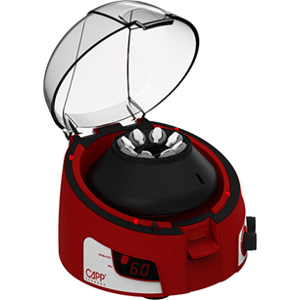 The Capp Microcentrifuge provides the power and flexibility that every lab requires. The CAPP Rondo Microcentrifuge is much more than just a standard microcentrifuge. It's an extremely quiet unit, even at full speed, and takes up very little benchtop space due to its small footprint. Equipped with high-quality suction pads, the CAPP Microcentrifuge remains stable on the bench, even during extended runs at full speed. The vibrant red color of the CAPP Rondo Microcentrifuge, combined with the elegant Danish design, will bring exuberant life and contrast to your lab environment. This microcentrifuge has a variable rotational speed, with a maximum centrifugation speed of 6,000 rpm/2,000 x g. The CAPP Microcentrifuge is suitable for 1.5 mL and 2.0 mL tubes, while smaller microcentrifuge tubes can be inserted using the accessory adaptors.
The CAPP Microcentrifuge offers further advanced features such as a digital display, timer function and a digital calibration function. The CAPP Microcentrifuge is supplied with an 8-slot closed rotor, an additional PCR strip rotor that accommodating 2 x 8 x 0.2 mL and reduction adaptors for 0.2/0.4 mL microcentrifuge tubes. This is the ideal unit for PCR quick spins. With user safety in mind, this microcentrifuge from CAPP has been equipped with an electronic safety brake system, which prevents the lid from accidentally opening until the rotor stops completely. This microcentrifuge offers quick operation by simply closing and opening the lid. The variable speed microcentrifuge also offers an imbalance cut-off safety feature, notifying the user if tubes are loaded unevenly in the rotor. It is also equipped with drain hole for draining liquids that are accidentally spilled inside the chamber.
See if the CAPP Microcentrifuge is the perfect unit for your lab!