What is a Plate Shaker?
Plate shakers are used for mixing samples in microplates. The goal is to generate an ideal shaking motion from gentle rotation to vigorous vortexing. This equipment is used for ELISA, enzyme immunoassays, protein synthesis and pharmaceutical profiling. It is also used in virological, immunological, serological, and hematological application as well as Alpha, Kline, Mazzini, Syphilis, Pregnancy and other chemical tests.

How to Choose a Plate Shaker for Your Lab?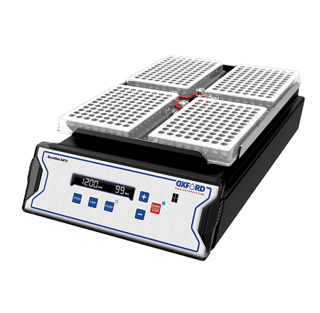 When choosing a plate shaker that is the perfect fit for your lab, it is crucial to know what is on the market as well as where can you save an extra buck.
Available plate shakers have many similar specifications. The majority of them are speeding up to 1,200- 1,500 RPM, can be set on timer or run continuously, with capacity of 4 plates, and take a temperature range from 4 to 65 degrees Celsius. When shopping around for a perfect unit consider most popular, durable, and fairly priced Labnet, Benchmark, Scientific industries and Oxford plate shakers.


Labnet, Benchmark Scientific, Scientific Industries, and Oxford Plate Shakers
Labnet International has a strong market presence in shaking lab equipment. The unique features include a small footprint which makes it perfect for the use in incubators as well as quiet, vibration free motor.
Benchmark Scientific is the heaviest unit. You can place all four plates on the platform which instantly secures them without the use of springs, clamps, or tools.
Scientific Industries has a pulse mode which allows for true vortexing action in each well of the microplate. This unit is unique because you can get an optional accessory tray to double the capacity from 4 to 8 plates. This is also the only unit with 1 mm orbit size and maximum speed capabilities.
Oxford Lab Products is the steal deal unit, because of its capabilities to perform clockwise and counterclockwise vortexing motion as well being priced significantly below its competitors. You can truly perform vigorous shaking using long-lasting memory. Its compatible with all standard microplates, has a digital display, and rubber O-rings for a firm grip to hold plates.

Pipette.com Has the Right Plate Shaker for You!
If you have any questions, feel free to take advantage of our customer support team to ensure your satisfaction. Whether you are looking for a small footprint, extreme speed, easy operation, large capacity, diverse vortexing motion or affordable price, we got you covered!