Looking for a benchtop appliance to heat or mix your solutions? Pipette.com has got you covered with our economical line of Benchmark Scientific and Labnet International brand of hot plates and hot plate/magnetic stirrers.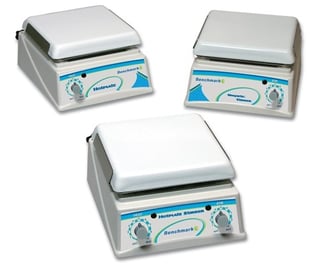 Created to replace the open flame methodology of heating solutions in glassware, hot plates have come a long way! The advantage of the hot plates comes not just in the form of improved performance through uniform and controlled heating but also in terms of overall safety.
Today's hotplates come in both analog and digital designs. Analog plates are controlled with a rotating dial while digital hot plates typically give you better temperature control. Hot plates with magnetic stirrer functions require a magnetic stir bar to put into a solution to effectively mix the solution during heating. Hence having a digital hot plate and magnetic stirrer allows for a more uniform and controlled environment for your solution.
When it comes to materials, hot plates can be made from ceramic, aluminum, or enamel. An aluminum plate can distribute heat evenly, quickly, and efficiently. It is also easy to clean and maintain but does have a tendency to corrode. Ceramic and enamel are considered more conditioned to handle temperature fluctuations as well as resist strong chemicals.
So which hotplate is right for you? Take a look at our comparison chart to find out!
Pipette.com Hotplates

Manufacturer

Benchmark Scientific

Labnet International

Model

H4000-H / H4000-HS

H3760-H / H3760-HS

AccuPlate D0300 / D0320

AccuPlate D0400 / D0420

Type

Analog

Digital

Analog

Digital

Platform

White ceramic

White ceramic

Ceramic

Pyroceran Ceramic

Platform Work Surface

7.1" x 7.1"

6.5" x 6.5"

7" x 7"

5" x 7"

Dimensions (WxDxH)

8.5" x 10" x 4.5"

7" x 10.5" x 4"

7.87" x 11.81" x 4.53"

7.76" x 11" x 4.25"

Temperature Range

80°C to 380°C

Ambient +5°C to 380°C

Up to 380°C

5°C to 550°C

Weight

9lbs

5 lbs

?

6lbs/7lbs

*Stir Speed

60 to 1500 rpm

200 to 1500 rpm

100 to 1500 rpm

60 to 1150 rpm

*applies to only magnetic stirrer and hot plate combination models (H4000-HS, H3760-HS, D0320, and D0420)
There are many similarities between the benchmark scientific and labnet international line of Hotplates/Magnetic Stirrers. Both our brands of hotplates feature a durable, chemical resistant white ceramic work surface. Both brands contain a safety indicator on the front panel. Both the benchmark and labnet hotplate stirrer models comes with support rod for mounting thermometers and temperature probes. And both provide high quality reliability and features at an economic price.
Labnet AccuPlate Analog Hotplate Stirrers – Starting at $175.50
Benchmark Analog Hotplate Stirrers – Starting at $186.58
Benchmark Digital Hotplate Stirrers – Starting at $191.25
Labnet AccuPlate Digital Hotplate Stirrers – Starting at $252.50
The differences will be slight and depend on preference and specification needs. I encourage you to click the links above and to contact your Pipette.com customer service representative in order to find the hotplate and magnetic stirrer that matches your needs.