At Pipette.com we understand that budgets are always tight. No matter how well planned out your lab budget is, something always comes up….right? As such, getting everyday lab supplies at discounted rates becomes very important. Unfortunately, there always seems to be a series of hoops to jump through and questions to ask in order to get the deal you need.
Not with Pipette.com! Below we have outlined three quick shortcuts to get excellent savings on the products you need every day:
Labkits
One of the easiest ways to save money on equipment for your lab is to buy it all together! We offer several kits that will supply your lab with more than just pipettes. These are often packaged together by the manufacturer and include pipettes, tips, and other assorted equipment and consumables. For labs on a tight budget, I suggest looking at the AP-Labkit! Some of our other options include the popular Eppendorf EP-Labkit and Nichiryo NPX-Labkit.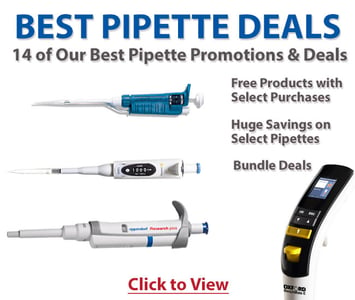 Oxford Lab Equipment
Broken equipment is unavoidable, and it's one of the most inconvenient problems to solve. Benchtop equipment is vital to your work, yet takes a chunk out of your budget. When some of your equipment goes down everything in the lab comes to a screeching halt. That's why, at Pipette.com, we keep our Oxford equipment in stock, in our warehouse, ready to ship out the same day. Offered at incredibly low prices, Oxford lab equipment is remarkably durable and the perfect way to get your lab back up and running while saving some money!
Most Popular: C8 Microcentrifuge, VM-D Vortex Mixer, C12V Centrifuge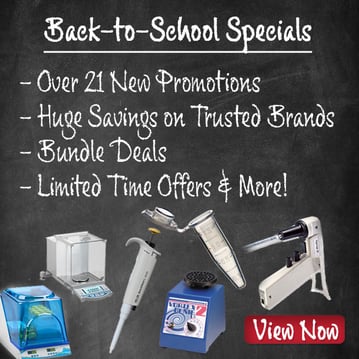 Weekly Promotions
The best way to save money for your lab is to keep up to date on our weekly and monthly promotions! There are dozens of promotions at any given time, allowing you to find relevant deals to what your lab needs at the time. Right now the best items to check out are our Best Pipette Deals and a Buy 3 Get 1 Free on all Celltreat products.
Finally, remember that we're here to help! All of our account managers and customer service team are well-versed in our product offerings and current promotions. Don't hesitate to reach out over live-chat, fill out a contact form, or give us a call at 800-243-3232.