Looking for a simple pipetting instrument to aspirate and dispense between the volume ranges of 0.1ml and 100ml? If so, the standard motorized pipette controller may be the work-horse pipette filler for you. Whether they are being used to draw water for testing, perform cell culture, or to fill containers, the standard motorized pipette controller is a simple and effective instrument that can be used in a variety of applications.
Although, there are a many brands of motorized pipette controllers in the biotechnology market place. They all operate in very much the same way. Most controllers come with an aspirating button, dispensing button, multiple speed settings, and safety features to prevent cross contamination. The speed controls (High, Low, Gravity) allow users to increase aspirating and dispensing settings to speed up workflow or to slow down the aspirating and dispensing steps to reduce the chances of damaging sensitive cells and to deliver a more accurate volume.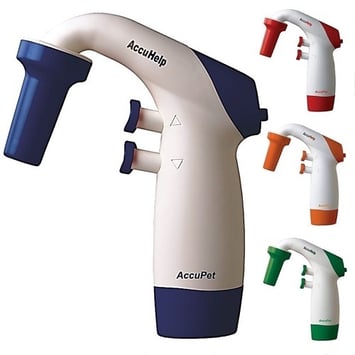 From the safety aspect, most controller guns come with an internal filter along with an elongated nose piece designed to hold the compatibly sized serological pipettes that typically come in sizes of 1ml, 2ml, 5ml, 10ml, 25ml, 50ml, and 100ml. Many brand new controllers come with a desktop stand along with an extra replacement filter.
From the entry level Accupet Accuhelp Controllers, economy CAPP Controllers, and gold standard Drummonds, Pipette.com has a variety of brands to suit your preferences and your needs. Maintenance for these controller guns are simple. To start, be sure to charge before first use and be sure to replace the battery and filters when needed. Batteries typically last approximately 1000 cycles (charges). Be sure to not over-pipette and aspirate liquid into the controller. Although most controllers (such as the Drummond Pipet Aid), have specialized features such as a unique filter mechanism that prevents air from passing in either direction. It is best to be vigilant about the chemicals being used that could damage the internal components of the controller gun, contaminate the samples you are working with, and jeopardize your personal safety.
In addition to making a choice for your controller, there are a few types of serological pipettes that are made specifically for pipetting in certain environments or with certain types of medium. For instance, Pipette.com carries CELLTREAT "shorties" that are shorter and thicker than most serological pipettes. These are easier to use when working underneath the hood. Essentially reducing the angle of rotation needed to operate the motorized pipette controller. On the opposite spectrum there are also larger opening serological pipettes for those needing to pipette highly viscous fluids. For a full range of options, contact Pipette.com now!