Pipetting is not only a repetitive motion, it can also require frequent force to be exerted. Enduring multiple hours of pipetting can lead to injury if proper steps aren't taken. With an effortless tip mount and tip ejection, the Rainin® LiteTouch System® hopes to avoid such injuries.
Pipetting shouldn't hurt, that's the idea behind the Rainin® LiteTouch System® (also known as "LTS®"). Rainin® came up with this line of LTS® pipettes and tips years ago. The LTS® tips feature a cylindrical design with a small sealing area and a positive stop to avoid excessive mounting force of the pipette. If the pipettes and tips are used properly, they should reduce tip ejecting forces by up to 85%.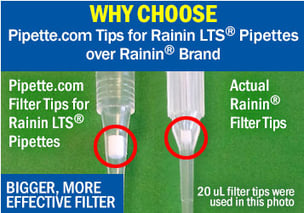 Most Rainin® pipette users buy their LTS® tips directly from Rainin® because they simply don't know there are alternative options available. If you feel like you're overpaying for Rainin® tips, that's probably because you are. Here at Pipette.com, we offer a 100% LTS® compatible tip made specifically for Rainin® LTS® pipettes. Our LTS® compatible tips are meant for use on all "L" model Rainin® pipettes (including the original Pipet-Lite™ and newer XLS™ models). We have all volume ranges from 10ul up to 1200uL, and we sell them in all packaging/sterility formats. This includes bulk bags, reload stacks, racked, racked sterile, filtered/barrier, and low retention. Our tips are made in the U.S. with the highest quality resins available.
Anyone that's worked with a multichannel, knows that mounting tips can be a challenge when using multichannel instruments. Nothing is worse than mounting the tips, aspirating your sample, and then noticing that the liquid inside the tip isn't consistent across all channels. What's even worse, is when the tips fall off in the middle of pipetting! An airtight seal is needed to prevent these instances from happening, and with our LTS® compatible tips that airtight seal is effortless to accomplish. See a 30 second demonstration here.
What are you waiting for? Stop overpaying, and start saving now! Get your free samples of our 100% LTS® compatible tips today. Contact us at 800-243-3232.