Refrigerated centrifuges are a necessary piece of equipment for many laboratories, particularly for those performing any kind of molecular biological work. Molecular and cellular applications, such as ethanol precipitation, phenol extraction, NA preparation, cell collection or spin-down of temperature sensitive reaction mixtures all require a refrigerated centrifuge to be performed correctly.
Eppendorf Centrifuges, including Eppendorf Refrigerated Centrifuges, are some of the best quality and most highly regarded units on the market today. Eppendorf introduced their first centrifuge in 1964 and ever since then the Eppendorf centrifuge range has revolutionized life science research everywhere. The company's focus on quality, durability and efficiency when it comes to producing and constantly evolving Eppendorf refrigerated centrifuges has made them the market leaders in centrifugation. With their German engineering, the newest Eppendorf refrigerated centrifuges are renowned for their reliability and consistent quality over a long product lifespan.
Eppendorf refrigerated centrifuges are versatile enough to fit into almost any laboratory environment. The Eppendorf name has become synonymous with creative design, innovative technology and reliable performance that stands the test of time. Eppendorf 5430 R Refrigerated Centrifuges are a unique cross-over centrifuge design that combines the best features of a microcentrifuge (small footprint) and a multipurpose centrifuge (versatility) in one instrument. These centrifuges have a maximum speed of 30,130 × g (17,500 rpm) and have spin rotor options for Eppendorf tubes, microtubes, PCR strips and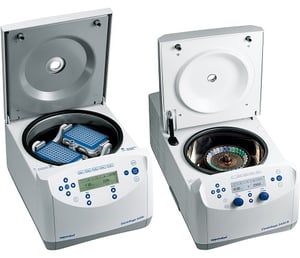 microtiter plates. With their compact size, Eppendorf 5430 R centrifuges also accommodate rotors for microplates and 15/50 mL conical tubes. The rotor program has even been expanded to include additional Eppendorf QuickLock rotors. This includes 48-place rotors (1.5/2.0 mL), a 16-place rotor for 5.0 mL Eppendorf tubes and a swing-bucket rotor (24 × 1.5/2.0 mL). The Eppendorf 5430 R refrigerated units have a temperature range of -11 °C to +40 °C, providing you with a broad range of versatility when it comes to different applications. Eppendorf 5430 R refrigerated units are available in either a keypad or knob interface format and, with their unmatched versatility, the Eppendorf 5430 R centrifuges are the flagship products among the Eppendorf refrigerated microcentrifuge portfolio.
Pipette.com carries the complete line of Eppendorf refrigerated centrifuges, rotors, and accessories to meet all temperature sensitive centrifugation needs and applications.