The vortex mixer, or vortexer, is a common yet critical piece of lab equipment found in almost every lab. It is used routinely for mixing liquids, solutions and suspensions in tubes, as well as in plates and containers. Vortex mixers are available in analogue or digital formats, with speeds ranging from 200 rpm to 4,500 rpm on the selection of vortex mixers available on Pipette.com. Click here to find out more about our full range of vortex mixers and to see our latest promotions!
What are Vortex Mixers Used for?
Vortex mixers come in different configurations and formats, with a plethora of models and features due to varied vortexing demands. They are used every day in the lab to deliver quick, or prolonged, blasts of energy (vortexing) to liquids or solutions to mix, blend or shake them or shatter or disrupt cells in a solution. They can also provide long periods of agitation to thoroughly mix solutions or suspensions.
What Vortex Mixer Should I Buy?
When it comes to picking the right vortex mixer for your lab, you need to consider your vortexing needs and requirements. Do you just need to apply quick blasts to individual microtubes or do you need to vortex microplates for prolonged periods? Do you need to vortex and incubate samples simultaneously?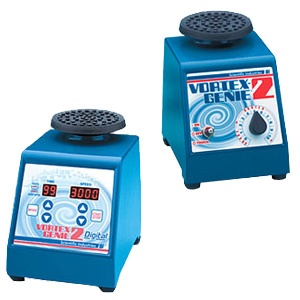 Which is Our Most Popular Vortex Mixer?
The most popular vortex mixer at Pipette.com is the Vortex Genie 2 from Scientific Industries. This is due to its variable speed range (600 rpm to 4,500 rpm), broad range of attachments and hands-free control feature. The family of accessories available for the Vortex Genie 2 allow the user to simultaneously mix liquids in multiple microtubes and tubes across a selection of sizes, as well as microplates, deepwell plates, beakers and flasks, all with the one unit. Check out the Vortex Genie 2 at Pipette.com now!
Spotlight On – The BenchMate VM-M Mini Vortex Mixer from Oxford Lab Products.
Small but mighty! This little unit might only have a 100mm x 100mm footprint but it packs a powerful punch, with a max vortexing speed of 4,500 rpm! This makes it the most powerful mini vortex mixer on the market. Combining its power, size, robust design and price tag, this little unit is hard to beat for value and practicality. Buy the VM-M at Pipette.com now!