The Oxford LP Benchmate Vortex Mixer Family
Don't get caught in a vortex shopping around for the right vortex mixer for your lab. Our Oxford LP Vortex Mixers have all the features you need at prices that won't make your head spin.
The Oxford LP Benchmate VM-D: The Updated Workhorse of the Lab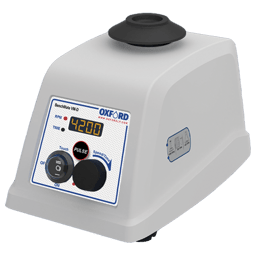 Looking for a vortex mixer that works as hard as you do? Look no further than the Oxford LP BenchMate VM-D Digital Vortex Mixer. The VM-D has a speed range of 300 to 4200 RPM for gentle to vigorous mixing. The 4 mm orbital diameter allows for the formation of a strong vortex for ample mixing. The digital display allows for precise speed selection, and toggles between speed and time every 5 seconds, giving you complete control over your process, and ensuring precise and repeatable results. Use the VM-D in touch mode for short vortexes, or hands-free in continuous mode with one of the available attachments for microplates, microtubes, or flasks. The timer and programmable pulse mode provide extra customization, freeing up time for you to multi-task while your samples are vortexing. The robust construction and brushless DC motor make the Oxford LP VM-D maintenance free and built to last, which makes it perfect for the daily grind.
The Oxford LP Benchmate VM-M: Small but Mighty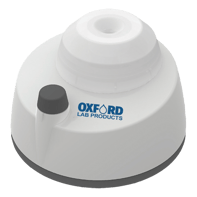 With a 100 x 100 mm footprint and a 4500 rpm max speed the Oxford LP Benchmate VM-M Mini Vortex Mixer is the most powerful mini-vortexer on the market. Weighing in at only 0.55 kg (1.2 lbs), the VM-M is perfect for quick vortexing under the hood, in cold rooms, and virtually anywhere else in the lab. This simple, no-fuss model works using touch operation and has a 4.5 mm orbital diameter, which delivers a powerful vortex in tubes up to 30 mm in diameter. The microprocessor technology can adjust to varying load conditions to deliver consistent results every time. Well-designed finishing touches like suction cups for stability and a die case aluminum base make the VM-M stand out from the competition.
Need help deciding which vortex mixer is right for your lab? Give one of our reps a call and we'll point you in the right direction.