When it comes to purchasing a Rotary Evaporator the most important things to consider are durability, control, reproducibility, required capacity and safe use at a price within your budget. Some extra available features to consider include the necessity for an LCD digital display, and fine control of temperature and rotation speed. The three options discussed below from LabTech should have you covered whatever your requirements are.
LabTech EV311 Series Rotary Evaporators Economic and Durable Sample Separation
The EV311 Rotor Evaporator Series features two different models that allow users durability,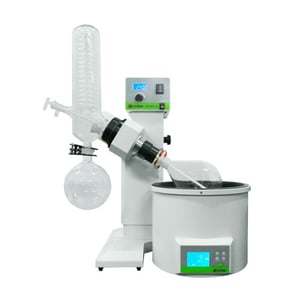 control, reproducibility, and safe use at an affordable price. The EV311H is the more economical model with more basic features and functionality, while the EV311PLUS is a more advanced model with extended functionality despised a still affordable price tag. The defining feature of the EV311 Series is the LCD Digital Display, which unlike other Rotor Evaporators, allows users to finely control the temperature and rotation speed. The dipping angle is adjustable, for variability in use. Furthermore, EV311 Series Rotor Evaporators include a condenser, all flasks, and a stand-alone heating bath. They are compatible with Water or Oil baths, and because the heating bath is separate, maintenance and operation are easier.
LabTech EV400 Series Benchtop Rotary Evaporators Advanced Technology with an Intuitive Interface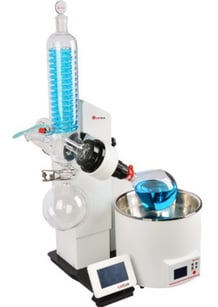 The EV400 Series Benchtop Rotary Evaporators are designed to improve the user experience when operating sample separation technology. The flagship feature is an intelligent color display touchscreen that allows users extensive and intuitive control of the rotation and temperature on the unit. Users can program the operation process and fully observe progress on the screen, to accurately monitor their experiments. LabTech employed a heavy-duty brushless motor on the EV400 Series that allows the units to rotate at up to 300 rpm.




LabTech LV20 Large Scale 20L Rotary Evaporators Large Scale Rotovap
LabTech created a large capacity rotovap with the durability and technology to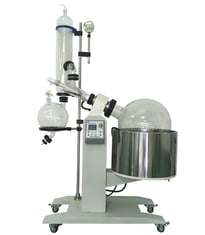 perform quality work, reliably, consistently, and repeatedly. The LV20 Large Scale 20L Rotary Evaporator is equipped with the equipment and accessories for large scale operation. It can be used at ambient temperatures all the way up to 99 ℃.