Cuvettes are essential tools in laboratories that utilize spectrophotometry, fluorometry or light transfer readings. Manufactured with quartz, glass, or plastic, and coming in disposable or reusable options, the specific cuvette that is needed for your laboratory depends on a few different factors based on your requirements. Pipette.com carries a broad selection of standard, UV and fluorimetry Cuvettes and micro-cuvettes available to meet your varied needs. These units feature light transmission options ranging from 180 nm to 2,000 nm and are manufactured from high quality materials, making cuvettes from Pipette.com the ideal choice for your lab. With brand names like BrandTech, Eppendorf, Globe Scientific, and Nest Scientific, Pipette.com is a one stop shop for all your cuvette needs.
Some important factors to consider when purchasing the correct cuvettes for your particular applications include window height, type of plastic, glass or quartz, wavelengths, uses, packaging and whether you need disposable or reusable cuvettes. With different window height for micro-, macro-, and ultra-micro units, you can really customize your light transmission equipment based on your experiments and samples.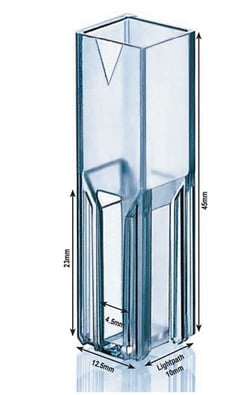 Eppendorf offers the highest quality quartz cuvettes on the market. With an optical path length of only 1 mm, the µCuvette G1.0 features a light path ten times shorter than a standard cuvette, allowing nucleic acid and protein concentrations to be measured with high reproducibility. Requiring no dilutions, a small sample of only 1.5 µL of nucleic acid or 3 µL of protein is required for measurements. These reusable units also have a simple cleaning design to reduce carry over contamination. This cuvette is the go to choice for quality measurements in laboratories working with nucleic acid or protein.
BrandTech and Globe Scientific manufacture cuvettes designed with polymethyl methacrylate (PMMA), an acrylic glass that is lightweight and more shatter resistant than traditional glass. This clear acrylic glass provides more accurate, reliable results than plastic and can read lower wavelengths than traditional polystyrene can. Manufactured to be scratch resistant and consistent between batches, these disposable units are ideal in most laboratories.
Finally, the most common form of cuvette is the plastic cuvette, manufactured with high quality polystyrene, polycyclic olefin, polyethylene, or other polymers. These cheap, disposable alternatives to glass and quartz units are commonplace in many laboratories utilizing high throughput light transmission readings such as academic labs.
With all of these options available, Pipette.com is sure to have the best Cuvettes to fit your needs.