Almost every lab out there needs high-quality glassware to handle their liquids and solutions! Wheaton is a name that is synonymous with great laboratory glassware. Wheaton has been innovating and creating products for the scientific industry for over 126 years. They have supported scientific research and experimental discoveries by designing and creating tools for laboratory research, healthcare professionals, diagnostic applications, and drug development. Wheaton has been creating new tools to accelerate discovery and has optimized existing tools to help scientists achieve their goals faster, easier, and more effectively than ever before.
Wheaton Products center around their long standing and extensive range of high-quality glassware and plasticware. Wheaton Products, and the Wheaton brand itself, are recognized around the world and respected for their commitment to quality, reliability, and dependability. Because of this earned reputation for excellence, Wheaton is the leading brand for glassware and plasticware in North America. Wheaton products – plastic and glass containers with a variety of sealing and closing systems – make sure that materials, sensitive or otherwise, can be delivered securely and in ideal conditions.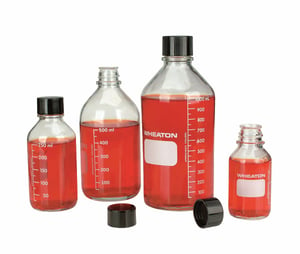 Wheaton products offer excellent sample protection. Wheaton containers are developed with the necessary materials and technology to make sure that your reagents, experiments, and research materials can be stored reliably and securely. These glassware and plasticware products are available in a wide variety of sizes and configurations to meet the increasingly complex needs of the research industry and today's scientific community. Customers can choose from a wide variety of bottles, vials, kits, flasks, and more to find the best Wheaton products to fit your needs and your lab requirements.
Pipette.com offers a huge selection of Wheaton glassware and plasticware. Find the perfect Wheaton Products for your lab and your research today.